The sixth edition of GemGenève, the tradeshow especially for jewellery professionals and enthusiasts and open to the public, finished on Sunday evening. A total of 4,320 visitors came to Palexpo to discover the outstanding gemstones and new releases on display at GemGenève. While the exhibitors concentrated on new business over the four days, the general public had the opportunity to find out more about the many facets of the world of jewellery, a unique experience for first-time buyers and seasoned collectors alike.
GemGenève provides a showcase for a selection of exceptional precious gemstones, a trove of treasures, and a top-notch cultural offering. 1,400 of the 4,320 visitors came to the tradeshow more than once, bringing the total number of visits to 6,487, over one thousand more than for the November 2022 edition (5,205). These figures are an excellent sign, especially given the ongoing impact of the crisis in Ukraine.
The tradeshow brought together 192 professional dealers among a total of 230 exhibitors, the highest number ever agreed to by the organisers, who are aiming to keep the tradeshow at a friendly size. Exhibitors included the Designers at the Designer Vivarium, Emerging Talent & New Designers, schools, the Villa of Lost Arts, the exhibition by the Geneva Museum of Art and History (MAH) dedicated to automatons and music, the LetuBooks bookstore and Gem Collectors Bookshops, to name but a few. Then too, there were the laboratories and other tradeshow partners.
The exhibitors benefited from a favourable environment for business, discussions, and networking opportunities with connoisseurs and amateur enthusiasts. Organiser and co-founder of the event Ronny Totah said: "We're proud that with this most recent edition, GemGenève has now become an established part of the cultural fabric of Geneva and the international scene." At the inauguration evening featuring musical interludes staged by the Grand Theatre of Geneva with the delightful and talented soprano Julieth Lozano, GemGenève Director Mathieu Dekeukelaire reminded those present why the team in charge was so committed to the organisation of this event, the only one of its kind to date and getting better with each new edition: "We're working to promote human relations, respect, and synergies, creating opportunities as we do so." And indeed, there are no shortage of cultural projects at GemGenève. Close ties have been formed: with museums for participatory exhibitions (much enjoyed by the public); with art and jewellery schools; and within the contemporary jewellery world, with international designers selected by Vivienne Becker and emerging talent spotted by Nadège Totah. "With this positioning, GemGenève seeks to create new vocations and build new bridges between generations and between exhibitors, dealers, today's creators, museums and students," concluded Mathieu Dekeukelaire.
Ronny Totah had this to say: "We're thrilled with this new edition; it's far exceeded our expectations in terms of visitors (22% higher) and visits (25% higher), with an 23% increase in visits overall compared to last November", and offered his own analysis: "The fine jewellery market and the upper echelons of the antique and collectors' jewellery market are good shape overall; high-quality precious stones are difficult to find, and GemGenève is the ideal place to discover them."
By the end of these four packed days, exhibitors were tired but visibly happy with the business they had been able to conclude: indeed, word has it that most of the exhibitors did very fruitful deals.
As co-founder Thomas Faerber said: "Market conditions are healthy, buoyed by inflation in many regions of the world, adding to the appeal of high-quality pieces as safe investments. However, it would appear that the market for non-set stones is currently less attractive. The exhibitors in question are looking forward to the next international precious stone tradeshow in the hope of seeing this sector recover."
Visitors travelled from 85 countries to attend the sixth edition of the Geneva International Gem & Jewellery Show. In terms of geographical breakdown, most came from Switzerland (over 1,600), followed by France (over 500), Italy (205), the UK (177), Belgium (161), and the USA (108).
As a unique platform dedicated to coloured gemstones, outstanding diamonds, pearls, antique and contemporary pieces of jewellery, recognised designers and emerging talents, GemGenève's reputation for quality has gone from strength to strength with each new edition; the event is becoming increasingly popular with exhibitors, buyers and the international media, who now make sure the biannual event is down in their editorial diaries. Purchasers ranging from international retailers and leading jewellery houses to collectors and private buyers displayed a keen interest in making new acquisitions and concluding business deals.
The event also hosted the 'Designers' Village', featuring five creators of avant-garde jewellery who joined the Designer Vivarium organised by jewellery historian Vivienne Becker and eleven talented designers – six 'Emerging Talents' and five 'New Designers' under the watchful eye of Nadège Totah.
For the third time running, GemGenève set aside a very special place for the Strong & Precious Art Foundation: Ukrainian Jewellers designers' stand in the Designers' Village, bringing together the creations of six Ukrainian designers for this edition. We wrote about the Strong & Precious Art Foundation here.
As a genuine powerhouse of creativity GemGenève offers its visitors a fully immersive experience into the different skills involved in the jewellery industry, with a highly diverse and informative programme:
● A first work session (with more to follow) in partnership with the Gemmologie & Francophonie Association.
Reports from these sessions will be published in the Association's new magazine, due out in April 2024. The first session in May 2023 was devoted to the topic What does sustainability mean for jewellery?
· 3 Keynote Interviews conducted by journalists with well-known figures from the world of jewellery:
Andrea Machalova and Gaetano Cavalieri, President of the World Jewellery Confederation (CIBJO)
Melanie Grant and Allen Adler, Managing Director of Adler
Melanie Grant and Benoit Repellin, Worldwide Head of Jewellery, Phillips
4 exhibitions: one devoted to Automatons and Music curated by the Geneva Museum of Art and History (MAH); another at the Grand Theatre of Geneva on The Return of Ulysses by Claudio Monteverdi; one with the Singapore Gem Museum, and a fourth with the World Diamond Museum.
The Villa of Lost Arts welcomed a large number of craftsmen to present and showcase their work. Sheath-makers, lapidarists, pearl threaders, engravers, polishers, jewellery photographers and mosaic setters all took their turn to talk about their trade and share their passions.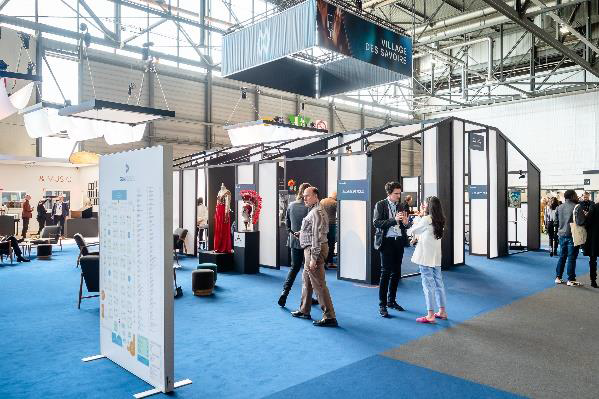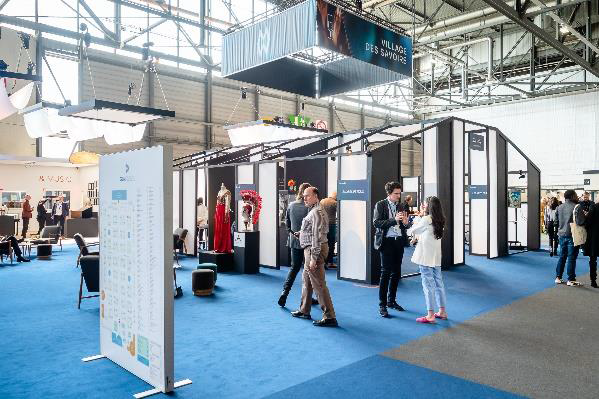 The Schools also presented their projects in the Knowledge Village:
–          DONNA JEWEL x GEMGENÈVE – No Limits: time for creativity exhibited creations by students from the Galdus School in Milan. You can read our article about Donna Jewel here.
– GEMGENÈVE x CFP Arts Genève x ETVJ x CPNE Pôle Arts Appliqués, in partnership with Fuli Gemstones – Nothing is lost […], everything is transformed […]
– HEAD x GEMGENÈVE x GTG – creation of costume jewellery sets drawing inspiration from the opera The Return of Ulysses by second year students at HEAD.
· PROJECT INVISIBLE – Making the invisible visible: the goal of the project was to support non-profits working to preserve the environment by making invisible pollution visible through jewellery.
A large number of signing sessions with the authors of books on jewellery, including Mélanie Grant, Justin K. Prim, Vivienne Becker and Joanna Hardy.
Talks were very well-attended, with an average audience of 40 auditors.
Precious stones and the creation and design of jewellery are of course important to us; nurturing genuine solidarity, bringing together the international community of dealers in precious stones and antique jewellery, designers, and all those with a passion for jewels is equally important.

Thomas Faerber, Co-founder of GemGenève
Five prizes awarded at this sixth edition: the winners
– HEAD 'people's choice' award, SSEF – GTG x HEAD x GemGenève project – Valentine Stegmann (HEAD)
– CFC 'people's choice' award, SSEF – CFC x ASMEBI x GemGenève project – Laura Monteiro (CFP Arts Genève)
– Donna Jewel Project 'people's choice' award – Donna Jewel x GemGenève – Allan Paul Salazar (Galdus)
– ASMEBI award – CFC x ASMEBI x GemGenève project – Lilou Magranville (CPNE Pôle Arts Appliqués)
– Eric Horovitz Foundation Award – CFC x ASMEBI x GemGenève project – Éloïse Marclay (CFP Arts Genève)
HEAD 'people's choice' award, presented by SSEF
The HEAD (Haute École d'Art et de Design) 'people's choice' award went to Valentine Stegmann for the production of a headpiece adorned with glass beads and polished brass, inspired by the allegory of love found in Monteverdi's work The Return of Ulysses.
This HEAD People's choice award will enable Valentine to follow the course of her choice paid for by the Swiss Gemmological Institute (SSEF).
Donna Jewel 'people's choice' award: students from Galdus School in Milan
As part of the No Limits: time for creativity project organised jointly by the GemGenève team and journalist, instructor and influencer Laura Inghirami, 23 students from Galdus School in Milan were invited to produce 16 pieces of jewellery.
The Donna Jewel 'people's choice' award went to Allan Paul Salazar on 13 May 2023 for his brooch entitled "Eleutheromania", depicting an explosion of heart-felt creativity. The delighted winner will have more visibility thanks to an interview by Laura Inghirami to be published on Donna Jewel's social media pages.
ASMEBI award presented by the members of the Romandy Jewelsmithing Crafts Association
Lilou Magranville, CPNE Pôle Arts Appliqués
Also as part of the topic Nothing is lost […] Everything is transformed […] for the CFC projects, the gouache necklace drawing inspiration from the shape of Medici collars by Lilou Magranville deals with the subject of time: past and future connect in the present, continually influencing each other to form time.
Financial support for the purchase of materials, raw materials and tools, from one of the members of ASMEBI.
Eric Horovitz Foundation Award: the 'Foundation's favourite'
The Eric Horovitz Foundation panel gave its Award to Eloïse Marclay for her work on the topic Nothing is lost […] Everything is transformed […]. The young woman from CFP Arts Genève came up with a necklace which reuses computer parts such as cables and batteries for the front of the piece and motherboards and memory cards for the back. The precious stones and recycled gold threads form a perfect combination in the elegant gouache, giving it a luxurious look.
The mission of the Eric Horovitz Foundation, founded in 2020 and launched at GemGenève in 2021, is to support young Swiss talents working in jewellery by recognising their creative output and encouraging lifelong vocational training and long-term mentoring. For more information you can visit https://erichorovitz.ch/en/.
The winner of the November 2021 edition was Hugo Massy, at that time a student at École Technique de la Vallée de Joux (ETVJ), for his creation entitled Gold & Black. Winning the Eric Horovitz Foundation Award enabled Hugo Massy to find a job in Paris in September 2022 with the distinguished Maison Piat, where he is training to become a lapidarist. To the young man's delight, the award opened up new professional prospects well beyond his expectations.

Media favourites
This top eight was drawn up by a selection of international jewellery journalists at GemGenève for the May 2023 edition. We asked them to share their star picks with us, choose their favourite piece at GemGenève and tell us why they chose it.
Francesca Fearon, journalist, editor
"A highlight for me was seeing Austy Lee's jewellery in real life for the first time, and not just on Instagram. I love the way he blends his Chinese cultural roots with a sense of modernity in this ring, and the complexity of materials and decorative detail that goes into his work. It's big, bold and emphatic."
 Nastya Ivlieva, Lostinjewels magazine, Italy, editor in chef
"My favourite piece is the pair of 18K gold earrings with white jade, diamonds and blue enamel by Austy Lee.
Hypnotically coloured with intricate details, his design spans cultures both past and present.
His artistic approach goes beyond the constraints of jewellery status quo, but never at the expense of quality."
Antonella Garello, Huesers Magazine, Italy, journalist
"My favourite piece is the multi-strand raven necklace by NVW, Natasha Wightman, presented at the Designer Vivarium. It's the result of great technical skills and at the same time a capacity to observe, deep sensitivity and a true love of nature. Each raven, carved and depicted with the greatest attention to every detail, shows its own particular expression and feathering. The necklace strands can be detached so you can choose how to wear this piece of jewellery. I think the piece conveys a great, touching idea of freedom and lightness."
Cristina Manfredi, Marie-Claire, Italy, journalist
"It's extremely hard for me to choose just one piece, because I've seen a breath-taking amount of incredible jewellery.
My vote also goes to the multi-strand raven necklace by NVW, not only for the impeccable craftsmanship involved, but also for the strong emotional impact of these pieces."
Giulia Sciola, Pambianco News, Italy, journalist
"My favourite piece is the Peony Ring by Elena Okutova (The Designer Vivarium): this piece of jewellery revolves around a complex and beautiful narrative. The mastery of crafts amazes in its ability to render the aesthetics of a flower and the flowering process. The designer impressed me with her huge determination and her ability to illustrate her creative journey."
Christopher Lai, editor, Lifestyle Journal, HK Economic Journal
"My favourite piece from GemGenève is the hot bended and burned oxidized high carbon steel set with an antique golden brown rose/portrait cut diamond from Leen Heyne.
The Dutch goldsmith has created masterful works with spectacular tension-set diamond creations, displaying his appreciation for the potential of each stone. His pieces are unique, organic and poetic."
Lux Chen, editor, BAZAAR Jewelry, China  
"My favourite piece is the rose gold ring with marquise diamond by Leen Heyne. The unusual inlay method is what sets it apart. The curved metal surrounds the diamonds to make the whole work dynamic, allowing people to see the inner rhythm of the metal. This ring not only reflects the craftsman spirit of the maker, but also satisfies the wearer's desire for individuality, simplicity and eternity."
RICHA GOYAL SIKRI, journalist and storyteller 
"My selection is a unique Cartier brooch from the mid-fifties. It features emeralds, pearls, tourmalines, set in an exquisite lace-like openwork gold design. I discovered it at the stand of renowned antique jewellery specialists ZEBRAK with Olivier Bachet, Director of International Antique Jewelers Association Expertise. As Bachet pointed out, the brooch was part of Cartier's India-inspired jewellery collection and once belonged to the Duchess of Windsor. I love it because it's a great example of how Jacques Cartier would bring pieces of Indian jewellery to Paris and use them in the creation of new pieces of jewellery – a point I also made in my presentation about Indian Jewellery Culture at GemGenève on 11 May 2023." 
The next edition of GemGenève will be held from 2 to 5 November 2023. Save the date to build the future of jewellery and precious stones together with GemGenève.
For more information, please visit https://gemgeneve.com/